Address: Universidad Andina del Cusco / Larapa (http://www.uandina.edu.pe/)
The event will happen at the main campus of the Universidad Andina del Cusco, in Larapa, Cusco.
You can get a taxi from the historic downtown to the event for 3 to 5 dollars.
Cusco
Cusco, located in the Southern Sierras, is a fascinating city, capital of the Inca Empire. UNESCO World Heritage Site and one of Peru's most visited cities as it is the largest and most comfortable city from which tourists can visit Machu Picchu, the Sacred Valley of the Incas, and other tourist destinations in the region.
Machu Picchu
Machu Picchu is the site of an ancient Inca city, high in the Andes of Peru. Located at 2,430 metres (8,000 ft), this UNESCO World Heritage is often referred to as "The Lost City of the Incas", is one of the most familiar symbols of the Incan Empire, and is one of the most famous and spectacular settlement in the world.
Lima
Lima is the capital of Peru. The mega city is a curious mix of the modern and colonial architecture. Lima was the seat of the Spanish rule during 300 years, and as such it has wonderful churches, cloisters and monasteries that are worth a visit. Lima is also the best place to try the wonderful Peruvian cuisine.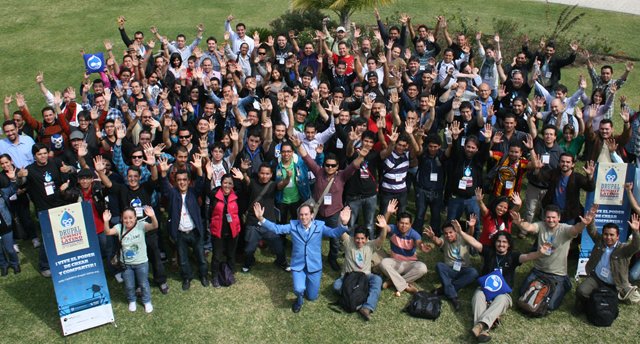 Group Photo from 2nd Drupal Summit Latino 2012 - Guadalajara, Mexico